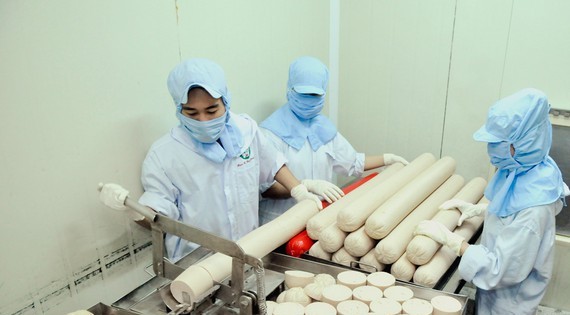 Many banks ask to release the line of credit
The line of credit allocated by SBV to credit institutions at the start of the year is based on the scale, asset quality and actual credit growth of each bank. As a result, there are commercial banks that receive the highest 12% line of credit, but there are also commercial banks that receive 6-8% line of credit. Meanwhile, many banks often set a target of 20-30% credit growth, as SBV typically plans to extend a second credit limit to commercial banks in the later months of the year when demand for credit. capital increases.
In the first six months of this year, thanks to the economic recovery and a favorable real estate market, credit growth has doubled compared to the same period last year. As a result, many banks have used up most of their lines of credit. As a state-commercial bank with the largest line of credit of the Big Four – the group of the four largest state-commercial banks – at 10.5%, but in the first six months of the year , Vietcombank's credit increased by 9%, almost double the average for the banking sector. TPBank has recorded credit growth of almost 7%, while its full-year credit limit is 11.5%. ACB also nearly hit the 9.5% line of credit extended. Other commercial banks, such as MBBank, in the first quarter of this year alone, achieved 8.6% credit growth, close to its 10.5% credit limit. In the first three months of this year, Techcombank recorded 6.76% credit growth in a 12% line of credit. MSB ended the first quarter with a credit growth of 9.5
percent within the assigned limit of more than 10 percent.
With the line of credit nearing the cap in the first few months of the year, many commercial banks rushed to increase share capital to create a base for SBV to consider easing the line of credit, because a successful capital increase will help banks improve the index. financial security and have more room for credit growth. Currently, more than ten commercial banks no longer have a line of credit and are asking for more from the SBV. In a recent meeting with the government, the SBV said it plans to expand the line of credit of commercial banks to ensure the quality of credit growth, as well as to meet the demand for capital from the economy.
There are many opinions regarding the imposition of an annual line of credit for commercial banks. Some experts have said that it is an administrative tool. Instead, based on the capital adequacy ratio (CAR), loan-to-deposit ratio, and short-term capital ratio for medium and long-term loans, each commercial bank will adjust its credit growth based on of its commercial capacity. Also, the allocation of the credit limit to each bank can affect interest rates, especially loan interest rates, because once banks run out of space, it will lead to credit restrictions and losses. interest rate hikes pending SBV review. But experts from the Maritime Bank's Economic Research Center said that at present, an important requirement of the government is macro stability. Therefore, first of all, it is necessary to stabilize the financial and money market. The credit chamber is one of the effective tools of the SBV to stabilize the money market. The Vietnamese economy relies mainly on credit, equivalent to around 140% of the gross domestic product. If credit growth is left unchecked, bad debts will likely increase, causing macroeconomic instability.
Mr. Pham Thanh Ha, director of the monetary policy department of SBV, said that managing credit by objectives and directions is necessary. It has been effective for many years both in controlling inflation and in credit quality. Therefore, in 2021, the SBV will continue to apply credit targets in line with macroeconomic developments.
Preferential treatment for customers affected by Covid-19
Faced with the proposal of the commercial banks, according to the experts, in addition to being based on the commercial activities and the rate of bad debts of the banks, the SBV should give priority to the relaxation of the room of maneuver of the commercial banks which concentrate their capital in priority manufacturing and trade sectors. Banks that extend too many loans to potentially risky sectors and that have not adequately provisioned bad debts need to be carefully scrutinized.
Commercial banks are currently channeling credit capital flows to priority manufacturing and commercial sectors. Specifically, from July 1, Agribank will spend 15 trillion dong and 300 million US dollars on individuals and businesses to borrow capital for production, business, import and export activities. export at low interest rates of 1.7% per annum for loans in USD and 3.5 per annum for loans in VND. Agribank also offers many exchange rate incentives and reduces or waives fees for import and export letters of credit. The national program lasts until June 30, 2022 or while program funds are exhausted. At the same time, Agribank has also set up many other preferential credit programs, amounting to more than VND 170 trillion, for customers affected by the Covid-19 pandemic, small and medium-sized businesses and FDI companies.
VietCapital Bank has launched a 9 trillion dong loan program with interest rates falling by up to 2%, especially for small and medium enterprises, with straightforward procedures. Sacombank has a 10,000 billion dong loan package to help export companies and enterprises overcome difficulties in production and business activities by the end of this year with an interest rate from 4 to 6.7% per year. By the end of September 30, VPBank will also promote an unsecured loan program with a credit limit of up to VND 3 billion, lowering loan interest rates for small and medium-sized businesses by 0, 5 to 2% per year. ABBank raised the total limit on preferential loans for businesses to 3 trillion dong, with an interest rate of 4.4% or support for small and medium-sized enterprises with an interest rate of 5.9% per year until end of September of this year.
SBV Deputy Governor Dao Minh Tu said that in the future it is possible to consider removing the line of credit mechanism provided that medium and long-term capital is mainly raised through the financial, securities and capital markets instead of the money market. . Second, commercial banks do not have to raise short-term capital for medium and long-term loans as they do now.