In an update last week from the Federal Reserve Bank of Kansas City, "Agricultural property values ​​increase sharply", Nathan Kauffman and Ty Kreitman stated that"The value of farmland jumped in the third quarter according to Federal Reserve surveys of farm credit conditions.
The value of non-irrigated cropland increased by 12% or more in all participating districts.
"The rapid increase was also constant in most states, with annual increases of more than 20% in some regions. Support the agricultural real estate markets, interest rate on agricultural loans has remained at historically low levels and strong farm finances drove further improvement under the terms of agricultural credit.
"Despite lingering concerns regarding increases in input costs, agricultural lenders expected income and credit conditions stay strong until the end of the year alongside high commodity prices. The concomitant increase in the value of agricultural land has strengthened agricultural balance sheets and provided additional support to the sector. Along with the prospects of strengthening commodity markets, the outlook for agricultural finance and the value of agricultural land through the end of 2021 stayed strong. "
Kauffman and Kreitman noted that "the value of non-irrigated cropland increased by about 15% on average in all participating districts. Gains a year ago were the highest of any quarter since 2013 in all regions and have offset reductions in land values ​​that may have occurred in recent years.
"The surge in agricultural real estate values ​​has been consistent in almost all states. The value of rain-fed cropland has increased by nearly 10% or more over the past year in all states for which data is available except North Dakota. Values ​​increased by more than 20% in Iowa, Minnesota and South Dakota and between 9% and 20% in all other states except North Dakota.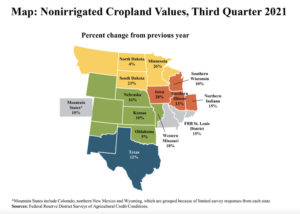 Last week's update added that "farm credit conditions have also continued to improve alongside strong farmland markets."